Profile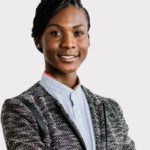 Linda Kokwaro
Candidate CV questions (extra)
Education:

I went to Kenya High School, did undergrad at Jacobs University in Bremen and did my masters and currently PhD at Charite Medical University, Berlin

Qualifications:

I have a Bsc in Biochemistry and Cell Biology and an Msc in Medical Neurosciences

Current Job:

I'm doing a PhD in Digital Psychiatry at Charite Medical University Berlin
Favourite thing to do in my job: Learning from patients with lived experiences

About Me

I'm in pursuit of living a full life every day while pursuing meaningful relationships, marvelling at the universe, participating in science and expressing myself through art and music

Read more

I was born in Kenya and currently live in Berlin. Most of my family lives in Kenya but my friends are scattered all over the world. I wouln't be where I am without the love and support of so many people so I live in service to others whenever I can. I really enjoy laughing and singing out loud, reading widely and learning nuances of languages. And my friends say I make terrible jokes 😉 What surprises most people though is that I'm highly introverted.

My work

Researcher in the neurosciences, psychiatry

Read more

I am a researcher in training with a foundation in neurosciences and currently interested in how digital tools and the digital space is either adding to, or influencing the treatment of severe psychiatric illnesses such as Bipolar Disorder. I get to work with psychiatrists as well as patients and it is a great honor to learn from so many different types of people to be able to do impactful research.

My Typical Day

meetings, a lot of reading and writing

Read more

My typical day has changed from working in a laboratory doing experiments to working from home due to the pandemic and change in fields. I'm normally on my laptop taking part in meetings to update my colleagues, or be updated. Sometimes I'll have a short class to take and go back to working on my laptop, reading papers, working on a survey or doing some form of scientific writing.

What I'd do with the money

I'd first organize a co-creation workshop with students to find out open questions they would like to answer for a project . Then I'd co-design with them a project that has principles of open innovation in science which translate to any field they would be interested in

Read more

My main goal is to do a participative project that is based on principles of open innovation in science with high school students. I would organize a co-creation workshop in which right from the ideation phase of a project, the students are part of defining the reseach question, what methods will be used and how the results will be reported. Since my current area of research is in neuroscience and psychiatry, I would share some projects about topics such as mental health that could be interesting, as well as scientists that would have some helpful input and we can then work together using principles such as crowd science to realize the project we decide on. I hope to empower the students to be co-researchers on a project we work on together from scratch.
My Interview

How would you describe yourself in 3 words?

introverted, curious, stubborn

What was your favourite subject at school?

I honestly can't pick one because I enjoyed Math, art, languages and sciences as much as I did Geography but I really did not enjoy reading a lot of information for Religious Education exams.

What did you want to be after you left school?

a musician, doctor, a kindergarten teacher. Not just one thing

Were you ever in trouble at school?

In high school yes! My friends threw me a birthday party that got us all punished and we had to take out weeds around the school's basketball court for a whole week

If you weren't a scientist, what would you be?

a musician or an artist, maybe a writer

Who is your favourite singer or band?

That's a hard one because I love so many. I love singers like Njoki Karu, Karun, Kambua, Lisa Oduor-Noah and bands like Sauti Sol, Sleeping at Last

What's your favourite food?

chapati and tea with anything!

What is the most fun thing you've done?

riding a motorcycle with my friends

If you had 3 wishes for yourself what would they be? - be honest!

I wish to travel to as many countries as I can in my lifetime,I wish to live a life of service to others, I wish to see my country flourish someday

Tell us a joke.

Why can't pirates finish the alphabet? Because they get lost at C(If you can't tell, I'm a dad jokes kinda girl)
My profile link:
https://purple22.imascientist.or.ke/profile/lindakokwaro/
---
---
---