Profile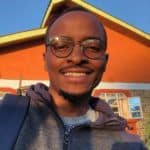 Jared Maina
Candidate CV questions (extra)
Education:

Kanjuri High School (KCSE), University of Nairobi (BSc Biochemistry), Imperial College London (MSc Human Molecular Genetics), University of Lille, France (PhD in Statistical Genetics (Ongoing))

Qualifications:

BSc Biochemistry, MSc Human Molecular Genetics

Work History:

I've been a sales representative for British American Tobacco, a photographer's assistant to Osborne Macharia (@osbornemacharia on IG) and student intern at KEMRI-CDC in Nairobi

Current Job:

PhD student/researcher at the University of Lille, France.

Employer:

European Genomic Institute for Diabetes (EGID)
University of Lille, France
Favourite thing to do in my job: Meeting new cultures, travelling and understanding life.

About Me

Jared is a creative all-round. Curious about life and our purpose in it. Eager to use science as a tool to change lives back home in Kenya.

Read more

Jared was born in Nyeri, Kenya almost 3 decades ago. The village life has shaped his personality and aura as he dislikes the rush or urban living, even though he enjoys what big cities have to offer. Jared prefers to listen twice as much as he speaks. He is an only child, a Man United fan (rough patch), an artist in science and photography and likes nature and outdoor activities. He hopes to one day contribute to improving the mental health research back home in Kenya, and Africa at large.

My work

I am a PhD researcher in Statistical Genetics at the University of Lille, France.

Read more

My PhD project seeks to identify the genetic factors that are shared between overweight/obesity and cancers. There is evidence that being overweight can increase your likelihood of getting some types of cancers, and vice versa. However, the genetic factors that cause this relationship between obesity and cancer are not yet clearly understood. My research entails using statistical methods/softwares to study genetic data available in public databases called biobanks.

My Typical Day

I typically have meetings in between writing and coding sessions.

Read more

Most days I have at least one meeting to either discuss an ongoing project, or just a catch up with my research group. When not in meetings, I am either reading scientific articles and drafting my thesis as I am scheduled to complete my PhD later this year. As my project is entirely computational, I also spend a significant part of my day running analyses on my computer. Of course I will break for lunch and breaks every often to recharge..rest is key 😁

What I'd do with the money

In conjunction with the teachers, I would organize a trip to one of Kenya's research facilities for a day. Expose the future researchers to what a research environment looks like should they choose that direction

Read more

Early on in school, most of us are not sure what to do as a career. One of the reason for this could be the lack of awareness of different fields out there, especially if they are not mainstream in society. In the case of science, there are some well-equipped, well-staffed facilities in Kenya which drive scientific research in Kenya but not many people know about them. For young kids in high school, a trip to such a facility may be eye-opening and thought-provoking; potentially inspiring a few to work in such places. With the prize money, I would liaise with the teachers on which facility would be within budget to attend for a whole day. And preferably outside the school's region so it doubles up as a fun trip.
My Interview

How would you describe yourself in 3 words?

Calm. Curious. Creative

What was your favourite subject at school?

Science in primary school, History in secondary school

What did you want to be after you left school?

I really wanted to be a cardiologist (Human heart doctor/surgeon)

Were you ever in trouble at school?

Haha haven't we all? I was in trouble a lot early in my schooling years, slightly less in the later years but still got in trouble

If you weren't a scientist, what would you be?

A photographer

Who is your favourite singer or band?

Nyashinski is my favourite artist. I love the band 'Just a Band'. Waiting patiently for their comeback

What's your favourite food?

The way to my heart is through a plate of ugali, dry fry (beef) stew, skuma, avocado

What is the most fun thing you've done?

Hmm, hard to pick one, but attending a Man United match at Old Trafford was pretty cool. But the most fun thing is yet to come!

If you had 3 wishes for yourself what would they be? - be honest!

(1) To live a happier life (2) To get a job at KEMRI-WELLCOME in Kilifi one day(3) To have a lifetime supply of fanta orange and avocado

Tell us a joke.

Who called it "insomnia" instead of "resisting a rest"? 😂
My profile link:
https://purple22.imascientist.or.ke/profile/jaredmaina/
---
---
---