Profile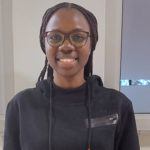 Bibian Robert
Candidate CV questions (extra)
Education:

I went to Kaaga Girls' High school then did my undergraduate at the University of Nairobi and later did a certificate in data science at Modcom Institute of Technology

Qualifications:

I have a Bsc in Geospatial Engineering, a certificate in Analytics Tools and Microsoft Azure Fundamentals

Work History:

I first worked at Geodev (K) LTD as a geospatial engineer where I did land and engineering survey, later transitioned to Kenya Agricultural & Livestock Research Organization (KALRO) where i worked as a GIS analyst intern, before landing my current role , Assistant Research Officer (GIS) at KEMRI-Wellcome Trust

Current Job:

GIS Research Assistant Officer

Employer:
Favourite thing to do in my job: I enjoy learning new things, programming around data analysis to identify patterns in data and visualizing these results using interesting graphics and maps

About Me

I am Kenyan, I am passionate about technology, I enjoy learning new things to feed my curiosity and conscious about the needs of my community.

Read more

I was born and live in Kenya. I am passionate about technology, community service, and women empowerment (encouraging more girls to take up STEM courses). I am a member of the Rotaract club through which I enjoy serving my community and Robogals. In my spare time, I enjoy outdoor activities (hiking, cycling, etc), learning about new cultures (learning german, and Japanese judo), and trying new food recipes. I also enjoy hanging out with my friends.

My work

I am a Geographic Information System (GIS) assistant research officer. I apply geospatial technology to study health and disease

Read more

As a GIS assistant research officer, my work entails applying geospatial technologies to generate spatial health metrics addressing public health problems such as anemia, Malaria, Maternal and child health outcomes, health access, etc. Geospatial technologies help in visualizing where and when diseases occur in space and time, understanding why they may be prevalent(common), who may be affected, and how to respond. I am also involved with data assembly and management of routine health databases (health data collected at regular intervals).e.g Dhis2

My Typical Day

exercise, reading, projects, programming and attending seminarss

Read more

I am an early bird, so my typical day begins around 5:00 am. I am intentional about trying work-life balance, just to ensure I strike a balance between my career and personal life. I mostly have at least two projects running and my day involves splitting my time or prioritizing either of them based on urgency. There could be meetings, seminars, or training that I need to attend so I adjust my schedule accordingly and later find time to exercise or learn something new.

What I'd do with the money

I would use the money to initiate a career sensitization programme in high schools in collaboration with other STEM bodies to aid students make informed career choices during university entry course selection

Read more

One of the critical phases that high school students undergo (I also went through this) is university entry course selection (career choice). The majority of students are not fortunate to have informed guidance on how to select university entry courses that determine future careers afterward. It would be useful to make choices from a point of knowledge, for example, I chose geospatial engineering and not many people including my parent were aware of the course. Inspired by that, I would use the money to initiate a career sensitization programme in high schools. It could be a career day(s) or workshops in collaboration with other STEM bodies where different professionals at different levels get to share their stories or make presentations on their work. The presentation could be practical sessions where students are taken through simulations of various aspects of different careers. That way, they gain a better idea of real work or might spark an interest in science to get a sense of what to expect and some of the challenges and satisfaction gained from these jobs.
My Interview

How would you describe yourself in 3 words?

diligent, creative and compassionate

What was your favourite subject at school?

I enjoyed maths and all sciences but enjoyed geography much more

What did you want to be after you left school?

When I was younger (primary school), I wanted to be a scientist but my understanding then was more of a rocket scientist so that I could fly to the moon, then I later changed to a pilot.

Were you ever in trouble at school?

barely, but one time my class got punished for not cleaning after a trip.

If you weren't a scientist, what would you be?

I believe I have an artistic eye, I would explore graphics design, web development. I would also look at writing children's books or explore horticulture

Who is your favourite singer or band?

It is difficult to pick one, because I listen to different genres of songs and end up with favorite songs from multiple musicians. I however love songs from maverick city, wanavokali, some Afro beats(Yemi alade, Fireboy etc)

What's your favourite food?

I love rice dishes e.g pilau

What is the most fun thing you've done?

snorkeling at a marine park

If you had 3 wishes for yourself what would they be? - be honest!

Financial freedom, photographic memory (so that I scan and grasp stuff at a glance) and sustained good health (I hate being sick and dislike medicine/injections)

Tell us a joke.

What do you call a three humped camel?....ans. pregnant (borrowed from an animation called Zootopia)
My profile link:
https://purple22.imascientist.or.ke/profile/bibianrobert/
---
---
---